Jebina & Andrew
Hoping to Adopt
(Texas)
Posts
We have a spot for you
We can't wait to meet you and join in on the family fun.
Lunch with Orcas
We had a wonderful trip to Sea World. We had lunch with the Orcas. It was amazing seeing the Orcas so close. Nora got to ask plenty of questions to the marine biologist.
Home Made
Home made bread turned into French toast. One of Andrew's specials. We can't wait to make breakfast for our new one.
And the second dip!
We are so excited for all of the fun that is to come for the summer.
The First Dip
Well it's been in the works for awhile, but we officially have a pool in our back yard!
Neighborhood Spring Festival
Enjoying some snow cones at the neighborhood spring festival
A Fun Sunday Morning
Face painting with makeup because why not! Nora got really creative.
King Cake!
Andrew's brother visited us and the entire family cooked their hearts out. They even attempted to make King Cake. Turned out pretty good.
Happy Birthday Mykonos!
We celebrated Myko's birthday with a puppy ice cream cake.
Amazing Light Show
We spent the day (and night) at the Moody Gardens in Galveston, TX. They had the most amazing Christmas light show.
A Perfect Day
This is our perfect day. We started the day with few rounds of board game. We then headed to the park where Mykonos and Jebina frolicked around the fields while Nora and Andrew biked. After that we headed home and played with the neighbors. We ended the night with a trip to Baskin Robins for ice cream teat.
Cookies For Santa....Check (and now we are finally ready for Christmas!)
Nora made cookies with Grandma Sue so she can put it out for Santa. We are finally ready for Christmas.
Reading 'The Night Before Christmas'....Check
Reading 'The Night Before Christmas' for the last time this year. Nora is a bit sad.
Saying Goodbye to Elf on the Shelf....Check
Saying goodbye to our elf, Hearty. So long until next year!
Magical Reindeer Food So Santa Can Find Us...Check
Nora is sprinkling magical reindeer food in our yard so that Santa can find our house.
Let the Festivities Begin!
We officially kicked off Christmas 2021 celebration today with making of the ginger bread house.
Lazy River
We had a blast going down the lazy river at the lost pines resort in Cedar Creek, TX.
3 Days in the Wilderness
We had the most amazing time (primitive) camping in Boundary Waters, Minnesota. We canoed 2 hours deep into the woods and found the most perfect island to camp out for 3 days. All 3 of us returned home to Texas in absolute bliss.
A kiss from a donkey
One of our adventures on our stay at a Farm.
Snuggle Time
Snuggle time with Daddy after a long soccer game.
Crawfish!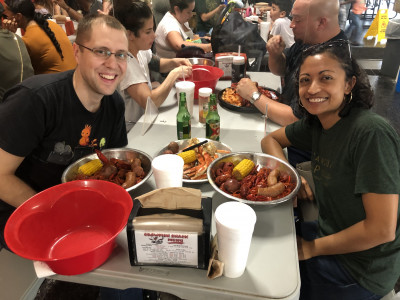 Enjoying the first crawfish of the season for our date night.
Dim Sum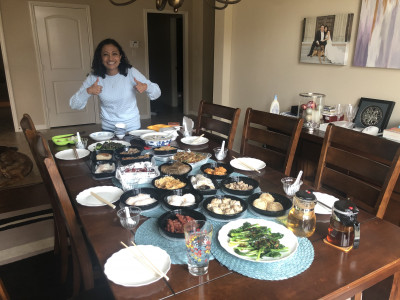 You know you have awesome friends when you say you are hungry for Dim Sum and this is what shows up!
Christmas 2020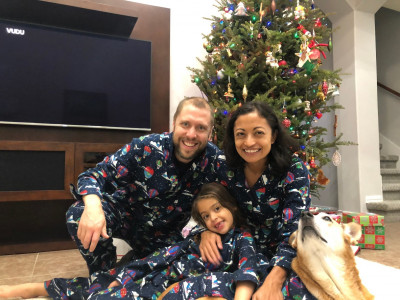 Well another year is almost done. Time to put way the matching Christmas PJs until next year!
Our Saturday Mornings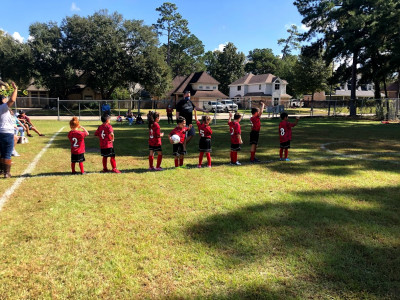 Our Saturday mornings are usually out on the soccer field cheering for #5! Jebina played soccer in middle school and high school. She is super excited to be out in the soccer field cheering.
Home is where the Heart is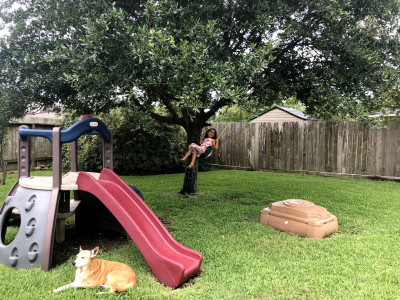 We live in a tightly knit cul-de-sac were everyone knows each other. When the weather is nice all the kids come out to play in the front yards, and when the weather is bad we have house parties. We enjoy walks and bike rides around the lakes not far from our house. There are also several playgrounds close by. On hot days we cool off at the local pool and the splash pad.
Family Fun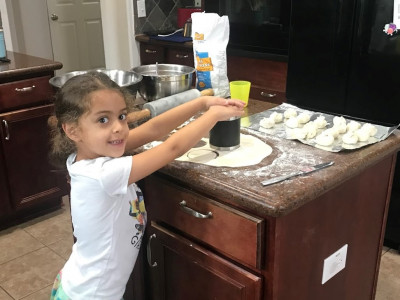 We love to cook. Jebina loves to experiment and cook foods from all over the world. Andrew loves to bake bread, cakes and cookies. Nora likes to help and taste test. Another taste tester is needed! We love to travel. We believe traveling is good for the soul, broadens horizons, and teaches compassion and empathy. We want to raise kind and happy kids that have seen the world.
Mykonos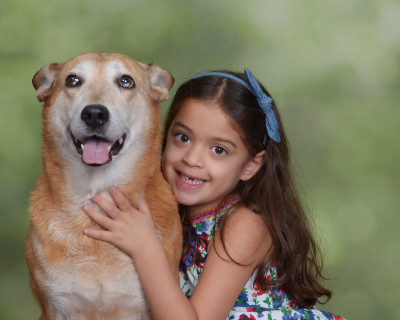 Mykonos is the most calm, sweet, and patient dog. She is loved by all of the kids in the neighborhood. She loves long walks in the woods, chasing squirrels, and naps in the sun. Mykonos goes everywhere with the family.
Nora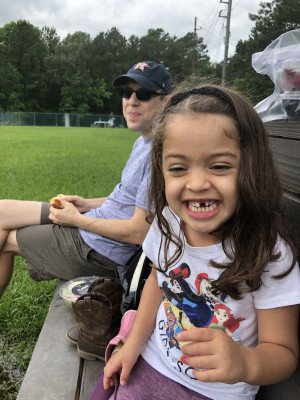 Nora is silly, fun, energetic, and loving. She loves to play outside with her friends, and hopes to be a vet one day for "cute" animals. She cannot wait to be a big sister so she can play princesses and dress in matching Star Wars costumes for Halloween.